Elastic est accompagné à la vie et à la scène de la charmante Françoise Rochais appelée «Francesca» dans le spectacle. Avec originalité, elle amène une touche de fraicheur à ce spectacle déjà haut en couleur !
Elastic is accompanied to life at the scene of the charming Françoise Rochais called « Francesca » in the show. With originality, it brings a touch of freshness to this already colorful show!
Ensemble ils ont été récompensés dans de nombreux Festival dont le Prestigieux Festival de MONTE CARLO en 2020.
Together, they have already been rewarded in many Festivals including the Prestigious MONTE CARLO Festival in 2020.
Elle c'est la grâce…

She is the grace…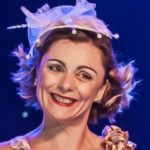 Lui c'est la ruse…

He is the guile…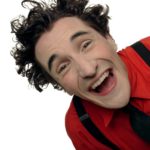 À défier ainsi les lois de l'apesanteur, on pourrait croire que Francesca est magicienne. Mais, c'est une jongleuse pleine de talent ! Avec elle, c'est le jonglage au féminin ! Son atout essentiel, son charme dans un milieu presque exclusivement masculin. Époustouflante dans sa maitrise de l'art du jonglage, elle allie grâce et exploits techniques. Inscrite au Livre Guinness des Records, elle excelle dans son numéro de jonglage au féminin ! Avec un palmarès impressionnant, c'est en 1995 qu'elle obtient la médaille d'or à Las Vegas, devenant ainsi Championne du Monde de Jonglage. Elle s'installe dans le cercle fermé des meilleurs du Monde. Autodidacte, elle a déjà fait le tour du monde et ne compte plus ses passages télévisés que ce soit en Europe, en Chine, au Japon, en Australie, en Russie et en Belgique, notamment dans l'Emission « Signés Taloche »… De dîners spectacles en cabarets, comme le Wintergarten de Berlin, le théâtre NGK au Japon ou Panem and Circenses de Roncalli, elle a présenté son spectacle original dans une trentaine de pays pour partager son art et sa passion.
Elastic est un personnage burlesque attachant, à l'accent italien, qui promène son public à travers l'univers du cirque et du music-hall. Dans ses sketchs, la performance côtoie le ridicule où « étonnement » rime avec « hilarant ». Ses spectacles sont universels, savoureusement drôles, mélangeant éclats de rire et soupçon de poésie. Avec plus de 30 ans de carrière, Elastic a déjà été applaudi dans toute l'Europe et au-delà, comme par exemple en Russie au Canada et au Japon. Elastic est aussi un habitué des plateaux de télévision que ce soit à l'étranger ou en France. Vous avez pu le voir à plusieurs reprises dans « Le Plus Grand Cabaret du Monde » de Patrick Sébastien, dont il a d'ailleurs fait la première partie au Casino de Paris ! Primé lors de nombreux festivals d'humour, de cirque, et de magie, Elastic a séduit un public toujours plus nombreux. Il a remporté une médaille d'Or au Festival International du Cirque de Saint-Paul les Dax en France. Elastic, artiste de cabaret reconnu internationalement, a été plébiscité par le Cirque du Soleil, invité au Festival « Juste Pour Rire de Montréal » ainsi qu'au « Crazy-Horse de Paris ».
To defy the laws of weightlessness, one might think that Francesca is magician. But she's a talented juggler! With her, it's juggling with women! Its essential asset, its charm in an environment almost exclusively masculine. Breathtaking in her mastery of the art of juggling, she combines grace and technical exploits. Listed in the Guinness Book of Records,she excels in her feminine juggling act! With an impressive record, she won the gold medal in Las Vegas in 1995, becoming World Juggling Champion. She settled in the closed circle of the best in the world. Self-taught, it has already toured the world and no longer counts its televised passages in Europe, China, Japan, Australia, Russia and Belgium, especially in the Emission « Signed Taloche »… From dinner shows in cabarets, such as the Berlin Wintergarten, the NGK theatre in Japan or Roncalli's Panem and Circenses, she presented her original show in about thirty countries to share her art and her passion.
Elastic is an attractive burlesque character, with an Italian accent, who walks his audience through the universe of the circus and the music-hall. In his sketches, the performance rubs with the ridicule where «astonishment» rhymes with «hilarious». His shows are universal, tastefully funny, mixing laughter and suspicion of poetry. With more than 30 years of career, Elastic has already been applauded throughout Europe and beyond as for example in Russia in Canada and Japan. Elastic is also a regular of television sets, whether abroad or in France. You have seen it several times in Patrick Sébastien's «The Greatest Cabaret of the World», of which he made the first part at the Casino de Paris! Awarded at numerous festivals of humour, circus, and magic, Elastic has seduced an ever-growing audience. He won a Gold medal at the Festival International du Cirque de Saint-Paul les Dax in France. Elastic, an internationally recognized cabaret artist, was praised by Cirque du Soleil, a guest at the Montreal «Just For Laughs Festival» and at the «Crazy-Horse in Paris».